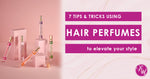 Elevate Your Style: 7 Hair Perfume Tips and Tricks to Make You Feel More Confident.
How you smell is an invisible part of your personal life that significantly affects how people perceive you. A significant portion of our fragrance we tend to overlook is that a lot of it comes from our hair. So no matter what perfume you use, if your hair smells, you also smell darling. I am in my 30s, so I connect with most women within this age range. For this reason, will be looking into hair perfume tips and tricks. This is to elevate your style and make you feel more confident, especially if you are a woman in your 30s.
As women in our 30s, this is where we consolidate all we have learned from our 20s; knowing how to effectively use our hair perfumes so that we always have that long-lasting boost of fragrance to cheer us on.
Tip 1: Spray with Alcohol-Free Perfumes.
Have you been warned not to use a particular perfume because it would dry your hair, or dry your skin if you spray on your skin? And you are always cautioned to spray it on your clothes? Well, this is because you have to ensure you know the contents of the perfumes and their effects. Some perfumes may contain alcohol, which can be very drying to your skin. This is not so for our Kelly MacPepple hair perfumes, because you can spray them safely on your hair and your skin. Ensure you are avoiding your face because your face is a sensitive part of your body and you would want to avoid any burning sensations or reactions. So make sure you're spraying at least 10 centimetres away from your hair, and you're spraying it on your skin.
Tip 2: Moisturize First.
Before spraying your perfume, moisturise first. This will make your scent last longer! You can even put your lovely body butter, lotion or cream to moisturise your body. Then spray your perfume on your body and watch how it just meshes and blends with your natural body scents. This also applies to your hair. Instead of your regular moisturiser, you could use hair mist or hair oil. Our product Elixir Extraordinaire Hair Oil would be a suitable combination with the Kelly MacPepple perfume set. 
Tip 3: Warm Pulse Points
Make sure you put your hair perfumes on the warm pulse points on your skin. The warm pulse points would be the crook of your arms, the back of your elbows, the back of your knees, your neck, your cleavage, your armpits, and your wrists.
Tip 4: Dab it in
For tip number four, dab it in, dab it in!
This is a misconception because rubbing it in destroys the molecules of the perfume, and though I haven't found any research to back this up, I will suggest that we err on the side of caution
. Let us dab our perfumes in; if we decide to spray it on our skin.
Now a lot of people will tell you that when it comes to your perfumes, to make it last longer, you can take your favourite fragrance and you can spray it onto your hairbrush and then use it to brush your hair
.
However
, if you're able to put them on your hair without having any damage to your hair, then why not?
Tip 5: Store Perfumes Correctly
Make sure that we store our perfumes correctly. Close your perfume lid properly so that none of the amazing scents escapes. This is mostly for the top notes; because they're the ones that evaporate quicker. You want to make sure that you have those top notes still in the perfume instead of them evaporating into the air and you never had a chance to put them on your skin. Avoid placing them in the sunlight. Humidity is also not good for perfumes. Make sure you store it in a cool dark place, just the way you would store essential oils or some of your personal care products.
Tip 6: Take Your Fragrance With You

I always like to have travel size perfumes, which is why in our Discovery Set you will find out that we have travel size bottles for your perfumes. You're able to throw that into your handbag. It's very lightweight. Then you can spritz and spray whenever you want. We've worked hard to make sure that our perfumes are long-lasting, but still, always handy so you can take them with you. We have done this to ensure you don't run out of that lovely, luscious scent as you go about your day.
Tip 7: Don't Over Do It!
 It is a fact that some of us spray, spray, spray, spray, spray, and end up exuding powerful smells that people avoid. When this is the case, no one wants to come near you because the end up sneezing a lot, especially if they have hay fever. Our mission is to be elegant, stylish and exude so much self-confidence. We're not meant to repel people with our scent. So make sure that you do not overdo it.
Perfumes hold different levels of concentration. The Kelly MacPepple perfumes range from 20% to 30%, known as Perfume (parfum). When it comes to Eau de Parfum(EDP), this concentration is from 8 to 15% of the Perfume itself, so it's not as strong as the parfum. The concentration for Eau de Toilette(EDT) is from 4% to 8%. Eau de Cologne(EDC) perfume concentration is from 3 to 5%. Lastly, Eau Fraiche or a body mist, the concentration is 1% to 3%. This is according to the Perfume Society found on www.plushfolly.com
Knowing the concentration of perfumes should guide the extent at which you spray the Perfume.
If you are using the Kelly MacPepple hair perfumes, I would suggest not spritzing more than 3 to 5 times because of the concentration of our fragrances, as I had mentioned ranges from 20% to 30%. A little goes a long way.
BONUS TIP
I have to include this bonus tip I learned from Sophie Shohet from YouTube. She shared how she always sprays perfume before going to bed. Her grandmother always did it, and Sophie noted how wonderful she smelled. I was like, "Hmm, I never heard that." I decided to do the same. Anytime before going to bed, I would spritz some perfume in my hair and just a little bit on my skin. When I'm lying down, I am enveloped by such a refreshing fragrance. I think it's something that you might enjoy also. 

Kelly MacPepple Hair Perfumes
Before wrapping up, I would like to share more about our hair perfumes. I love our hair perfumes because it is made entirely for that busy woman who wants a quick way to get in and out of her day smelling fresh. Especially for those days where you don't have the time to wash your hair, but you still want to smell good without it being damaging to your hair and your skin.
Our perfumes would be fantastic for that because they do not have any alcohol in them. They are made so that they are safe, both for your hair and for your skin. They are non-greasy and evaporate quickly without having any adverse effects.
They are also a cost-effective way of saving money. The concentration of our perfumes are relatively high, so you're able to save those coins. Save those coins girl. With these perfumes, you can spray less and have long-lasting effects.
Our perfumes are made so that they could boost your confidence. If you are a working woman and you want to go into the office, and you want to smell great, and you don't just want it to be on your skin and your clothes. You want your hair to be luscious, lovely and give you that confidence for the day, our hair perfumes are amazing for that.




Hope these tips have been helpful to some of you! Do check out my 

videos on 

YouTube

 

when you get the chance. It's your girl Kelly here to help you stay confident, stylish and successful. Do tag me on instagram if you've used any of these tips or have any suggestions!