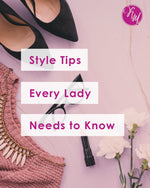 Styling Tips Every Lady Needs to Know
Remember when we were young and free? We just put on whatever it was and still came out looking good? Then there comes a time in your life, when you're getting closer to the age of 30, where you find out that you're not as outgoing as you used to be. You're not as adventurous as you used to be. It's like something just happens when we just cross 30, and probably over 40 for some of us, and all hell breaks loose!
We don't care anymore. We just tell ourselves, "Look, I'm over 40. I can't be bothered" or "Look, I am a mum of four children. I don't have time for style! I don't have time to look good!"

Ladies! I am here for you. We have to get our glam back. Listen, we don't want to end up looking like frumpy grannies pining through the old photographs of our youth! 
Now, before we get into the tips, we need to get organized. We need to put our things in order so we can collate everything. If you haven't organized your wardrobe, go forth! 
Tip #1 Accessories
Every stylish lady needs accessories. Accessories take your style from simple to gorgeous. I'm talking about statement jewelry, watches and luxury scarves. Some of us at this point may not be in the position to go change out our wardrobe, or are not willing to budget some money to buy new styles. The beauty of accessories is they are usually at a lower price point. 
So I like eye-catching jewelry. I know having a background of coming from certain countries like the Middle East or in Africa, we are more drawn to gold. There's nothing wrong with them, but let's go out of our comfort zones and do something different that we haven't done before. 
Tip #2 Classic Blazers
I love a nice, classic, well-tailored blazer. It just makes me feel like a lady. It makes me feel elegant. Blazers are so versatile because you can throw them on a pair of jeans. You can wear them on a dress. You can take off the blazer and there you've got a whole different outfit. We need to invest in a classic looking blazer. 
Tip #3 Experiment with Colour
Experiment with colour ladies! I am so passionate about this tip, because if you haven't already watched my videos, I am all about that vibrant colour! I have a friend in the law field and she tells me how her whole wardrobe is full of blacks and whites. Although she does like other colours, she discovered anytime she goes shopping, she sticks to those, like muted navy blue, brown, gray colors, because she's so used to just having that low, understated style. Colour makes the world go round! You don't have to go all out and be like Kelly and then just have colour everywhere. We don't need that, but you could start with a nice bright coloured pair of shoes or a simple, nice hair accessory. Scarves are one of the best ways that you can just infuse a bit of colour into a simple style. Experiment with colour girls. Color has changed my life!
Tip #4 Upgrade our Camisole
Have you ever thought of investing in a high end, silky camisole? I remember my mum used to have really nice silky camisoles, and any time she wore them she always looked so smart, and cute, and classy. I don't know why I didn't incorporate them earlier in my wardrobe. 
Tip #5 Better Tailored Clothes
Gone are the days when we just wore anything we wanted. Even if the trousers were too big, we'd just throw on a belt and then parts of the trousers will be falling out through the belts. You remember those times? For those of us who are lucky to have inexpensive seamstresses around us, please use them when you buy your nice tailored clothes.
It's always great to go back there to cinch in the waist if it's too big or taking the bits off the hem, it just gives you a nice polished look. Another thing I want to point out is we need to invest in buying more shirts and blouses. Less of the tank tops and the spaghetti straps. While they're nice on a casual day out, even when I have a simple sleeveless shirt, I always want to make sure there's some character to it. I'll make sure maybe it has some ruffles to make it not just a simple tank. Adding a scarf on the tank and voila! You have a stylish looking lady in front of you.
Go for a size bigger. Don't always go for your exact size. I find out that when you go for just a tiny size bigger, it just sits on your body. I know you hate that look, when you wear nice outfit, but you look like a marshmallow that was stuffed in. The folds, the lines, the bra strap is showing where it cuts in your body! We can avoid that look by just getting a size bigger.
Tip #6 No More Double Duty Shoes!
One of my friends came to visit me a few months back before this whole pandemic. I was talking about buying some more shoes. Like I don't have enough pairs of shoes! I was showing her different colours and different styles. And she was like, "Do you know I'd never go for these types of shoes? I just stick to my blacks or my plain colours, because it's just easy. I can wear them for different things." Ladies, no more, no more! Shoes for work shouldn't be shoes for parties, shouldn't be shoes for a wedding, shouldn't be shoes for going out. 
We need to have different pairs of shoes for different occasions. So please ladies, no more double duty shoes. They don't serve you. They don't make you look good. Now whilst on the topic of shoes, we need to wear shoes that are exactly our size. We don't want to go out and then we're walking like ducks because the shoes are falling out of our legs. Then we have to invest in all the pads and protective gear to keep our feet in the shoes.
Our legs are crying for mercy, but yet we're like, "Yeah, we're wearing these shoes. And that's what it's going to be." We need to wear more shoes that are our size because then we're so much more comfortable where we're going and it's easy for us to just zap in and zap out. 
Tip #7 Well-fitting Jeans
You know those pair of jeans that you wear and it gives you a nice curve on your body. It's not too tight that you can see your knees and your calves and your thighs, but it just sits on your body and looks so glam. Now, if you're over the age of 30, or if you're someone who has a wider tummy, it's always best to go for higher waisted jeans, let's say goodbye to low-rise jeans.
There was a time they were cool and we were young and we looked so nice in them. I realized that if I try wearing low-rise jeans now, I look terrible. 
Tip #8 Fancy Footwear
I always like to get fancy footwear. Footwear that are embellished, nice brooches or beautiful satin bow. Sometimes they actually become conversation pieces because people are like, "Those are unusual, they're unusual pairs of shoes." I like eclectic things. I don't like to wear what everyone is wearing. So if you have just nice colourful shoes, let's take it a step further and find those statement fancy shoes. 
Tip #9 Beautiful Handbag
Now some of us are bag-a-holics, we have too many bags to count. What works for me is having one everyday bag that I carry everywhere. I have my wallet and I have everything in it. I find out that that works for me better. I'm not one to have so many handbags, but if you're one of those people that has lovely handbags, it's an amazing way to make you look stylish. When you're making your choice, always go for handbags that look well-sewn, good-looking, versatile bags because it just lifts your outfit. Another thing I enjoy are bag charms. So for someone like me, who has just one bag that I wear almost every single day, I can mix and match with bag charms.
A twilly scarf to place on the handle would also look nice. It doesn't feel like I'm wearing the same bag every day. Do not feel like you need to buy a 10,000 pound handbag. You can get high quality handbags, well-made and nice leather bags for much less. Now, if you don't like leather, there's so many other vegan brands. 
Tip #10 Good-bye Bodycon Dress!
Remember when lycra was in vogue? Lycra trousers, lycra skirts, lycra everything, lycra tops. And I would wear lycra like it was going out of fashion. Before my thirties I could get away with doing that. I find out if you go for well-fitting dresses or well-fitting skirts that have more of a mix of materials, a mix of natural fibers, like cotton or silk, and it's mixed with elastane or something, but just maybe five to 10%, you still get that fitted look, but it's now more of a polished fitted look.
Beautifying Bodies, Beautifying Minds
Growing old doesn't have to be boring and dowdy and sad. We can have fun aging with glam. Do check out the video when you get the chance. It's your girl Kelly here to help you stay confident, stylish and successful. Do tag me on instagram if you've used any of these tips or have any suggestions!