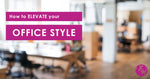 7 Tips on How to Improve/Elevate your Office Style
The coronavirus situation has left us in a complicated cycle of lockdowns. And even though this is the holiday season, there is a subtle feeling that everyone should be ready for when life gets back to normal and work resumes. Now, I was having a conversation with a good girlfriend of mine who wanted to change her whole wardrobe, especially when it came to style. This friend of mine is not really into fashion, but she loves a lot of the pieces that I wear, and she feels how I style myself will suit her. When it comes to workplace style, it can get boring quickly, so I will be giving you seven tips on how to improve/elevate your office style.

The majority of the time we spend daily is related to our work. And for this reason, we must create a style that reflects class and confidence. You may be wondering, how can I elevate my style? How can I be taken seriously and get to the position I have in mind. The first thing we have to consider is what type of office place do we have? Are we more in a corporate environment? Is it more casual, or is it a mix of business chic, corporate casual? The type of environment you work in will determine how to put your office style together.


Tip 1: Invest in Accessories
Now, the very first tip is, you need to invest in accessories because they're the easiest way to elevate your style without breaking the bank. It is the fastest way to make a simple outfit look fabulous and more glamorous. I would recommend scarves, belts, pieces of jewellery and handbags.
 
When it comes to scarves, there are so many ways that you can wear a scarf, and these decisions will make or break the outfit. With silk scarves, you can use them as brooches. If they're like twilly scarves, it will make an outfit you've worn before look different. I love scarves because they are versatile and it's a way to add colour to your outfits.

Belts are another way to help you look even more feminine and chic when it comes to the workplace. I love to wear a belt on my waist because it makes the outfit look more fitted and tailored for me. Now for some of us, we like that big outfit look, whether an oversized blazer or a flowy dress. An example of this is a plain, free, black shirt with a black striped skirt, and that lovely belt that performs a miracle and makes the outfit more stunning. 

Onto jewellery, I love signature jewellery. I love earrings that bring out my outfit. As you can see, I'm wearing something plain, but the addition of these earrings make the outfit more appealing. It's an easy way, especially if you're in a corporate environment where you have to wear specific muted colours.

Finally, onto handbags; every woman needs a nice structured handbag. It doesn't have to be expensive. I wouldn't recommend body bags because they are more suitable for travel. When you wear body bags to work, it can make your nice outfit look a bit drab and make you look a bit frumpy, which is not the look we want. In some circles, some ladies like to wear really large purses, and it makes the outfit look good. It makes them look smart even when they're going for meetings.


Tip 2: Add Something Unique
The next point is going for unique pieces, whether it's a lovely waistcoat, pullover or a nice cardigan. Rather than just going for a straight, button-down white or black shirt, why not go for something with a bit more character to it? I like frills, peplums, and a little bit of extra on my outfits. You will often see me with something that has a bow. Another way that you can add unique pieces is by using clothes that have patterns and prints. 

I know some people prefer neutral colours because when you repeat those outfits, people are not aware due to those muted colours but when you wear prints, everyone would know they're prints. What I've discovered is that when it comes to patterns and prints, you can make a lot of outfits out of one single outfit.

If it's a shirt, you're able to change out the trousers and skirts. It doesn't have to be the same all the time; you can add in a coat or even try to mix-and-match in many fun ways and still retain that vibrancy and beauty to the outfit. So try to add some unique pieces like prints and patterns so that it can take your style to the next level.
Tip 3: Fab Shoes
Now, the third way to elevate your office style is by wearing nice shoes. I always opt for pointy shoes probably because I have larger calves and they make my feet look dainty. I've noticed that when people wear pointy shoes, it gives them a smart look. I love them when wearing skirts or trousers. I always go for mid-heels to low heels for comfort, especially on days I have to do school runs, I don't want to be uncomfortable. I don't think it looks that great wearing heels over four and a half, five inches at the workplace. Now, I might be wrong. Let me know if you wear high heels at work. It'd be interesting to see where you work and how you're able to pull it off!
Tip 4: Hairstyles and Colours

Depending on where you work, you might not be able to rock the vibrant hair colours you desire, but there are ways to style your hair to achieve that nice polished look without breaking the style code in your workplace. I notice that a lot of ladies prefer to have their hair up. Some people say they find themselves playing with their hair when it's down. For someone like myself, I don't play with my hair, but I never really have hair longer than probably 12 to 14 inches, so leaving them down works for me. If you're someone who likes to fiddle with their hair, you might consider putting your hair up so that you have that nice polished look. I find out that even when I worked in a conservative environment, I was able to pull off my crazy afros and crazy hair only because they always looked neat. I made sure to pack them up. Even though they were crazy, they were well-groomed. They were nicely oiled, and at the end of the day, I think that is what is essential when it comes to the workplace.

So feel free to experiment but make sure you're not looking crazy and rugged with your hair all over the place because you want to look like a force to be reckoned with. 


Tip #5 Tailor Made Clothes
When it comes to wearing tailor-made clothes, I like to wear fitted clothes. I often go for fitted blazers and fitted shirts. I always have a lint roller in my handbag. If I am on a train or I use any form of public transport en route to work, I'm able to dust myself up, looking neat and well put together. So if you're somebody who uses public transport and you can't determine who you're going to be sitting down next to, it's handy to have a lint roller in your handbag. I've also invested in a steamer. I find them a lot easier to use than an iron. I'm not too fond of ironing, but I enjoy steaming my clothes. I know a friend who has a steamer at work so that when she gets to work if, for any reason, she's not looking smart, she would go into the bathroom and steam off any wrinkles on her clothes.
Tip 6: Personal Care
This brings me to my next point, personal grooming! I always emphasize personal care because its importance can is paramount. When it comes to office makeup, some people prefer simple foundation, and they are good to go. As for myself, I love my lipsticks. There's nothing I could do about it. I will always have beautiful, vibrant lipstick every single day because it just makes me feel happy. There's no need to cake on smokey eyes and contours since you hardly even have that time to put on all that makeup before going to work. If you do, tell me your secrets!
Every morning I take probably about five minutes, maximum of seven minutes, and I have my face done for the day, and I'm ready for work. I find out that having nice brows really helps your face look neat and polished even without much makeup. Also, find time once in a long stretch to polish off your nails. When you're signing papers and meeting people every day, you want to make sure that your nails look well-groomed. Not like you've eaten them all off, and it seems weird. So make sure that everything looks nice from head to toe.
Tip 7: Perfumes
Last but not least, the ultimate way to enhance your office style is with an unseen accessory. Those are perfumes, fragrances.

Some people don't regard fragrances and perfumes when it comes to style, but I feel that that's so important - that unseen accessory. It's nice to have that beautiful appearance. It's even better when there's that lovely aura that goes around you. Make sure that you use perfumes safe for your skin. You should also explore hair perfumes! Now, we have a line of amazing hair fragrances, especially for the woman in the workplace. Please find out more details from our website.
Beautifying Bodies, Beautifying Minds
So when it comes to office style, the best way to elevate your style is with little things here and there that can take your style to the next level. You don't need to change out your whole wardrobe. We can use what we have and make it go even longer. When it comes to my style for the workplace, I'm so comfortable in my shirts and denim. I wear them a lot. I love to pair some lovely skirts sometimes or dresses, but I know that my go-to is usually a nice pair of jeans with a nice classic shirt. 
I hope these tips have been insightful and useful to you! Do check out the video when you get the chance. It's your girl Kelly here to help you stay confident, stylish and successful. Do tag me on Instagram if you've used any of these tips or have any suggestions!